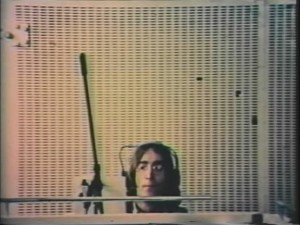 This is a video with a compilation of rehearsals of "Hey Jude". The Beatles recorded 25 takes of "Hey Jude" at Abbey Road Studios in two nights, 29 and 30 July 1968.
These were mostly rehearsals, however, as they planned to record the master track at Trident Studios to utilize their eight-track recording machine.
Four takes were recorded; take one was selected. The song was completed on 1 August with additional overdubs including a 36-piece orchestra for the song's long coda, scored by George Martin.
Most of the footage comes from take 9.
In the middle we see George Harrison, producer George Martin, and engineer Ken Scott in the control room.
George didn't have a part to play (reason unknown) so he chatted up Martin in the booth.