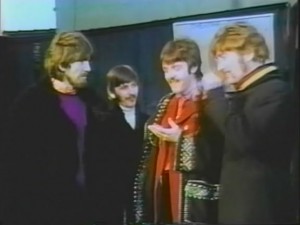 The promo clip for "Penny Lane" was shot on the 5th and 7th of February, 1967, in preparation for the upcoming mid-February single release.
"Penny Lane", along with "Strawberry Fields Forever", was originally intended to be part of the Sgt. Pepper's Lonely Hearts Club Band LP, but due to the lack of releases since the previous August it was decided to release it as a single ahead of time.
On the 5th of February the Beatles were filmed in Stratford, London, where they rode horses and walked in and around the Angel Lane area. Two days later they went to Knole Park in Sevenoaks, Kent, where the Strawberry Fields Forever film had been made a few days earlier. They rode horses through an archway, and then sat at a dinner table where Mal Evans serves the band guitars instead of food.
The promo video was produced by Tony Bramwell and directed by Peter Goldmann, who was recommended by long-time Beatles friend Klaus Voormann.