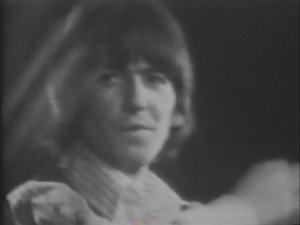 The Beatles created three promotional films for "Rain". These videos, along with other Beatles videos at the time, sparked George Harrison to say during the Beatles Anthology, "So I suppose, in a way, we invented MTV." The films were directed by Michael Lindsay-Hogg who worked with them earlier on the pop 1960 television programme Ready Steady Go! and later for the "Let It Be" project.
Of the three video, one features The Beatles walking and singing in a garden and a greenhouse while the other two feature the band performing on a soundstage (filmed 19 May 1966, one in colour for Ed Sullivan and the other in black and white for the UK).
This is the UK b/w version.