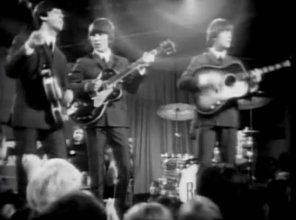 The Beatles recorded their third and final performance for Ready, Steady, Go! on 23 November 1964
They mimed to four songs: I Feel Fine, She's A Woman, Baby's In Black and Kansas City/Hey-Hey-Hey-Hey! and were also interviewed by Keith Fordyce.
The recording was broadcasted on 27 November 1964.
She's A Woman was written primarily by Paul McCartney, and released (UK) on 27 November 1964, as the b-side of the I Feel Fine single. Recorded on 8 October.
That's probably the first Beatles song to contain a drugs reference. The Beatles had been introduced to cannabis by Bob Dylan on 28 August 1964. "Turn me on when I get lonely" was supposedly Lennon's line.