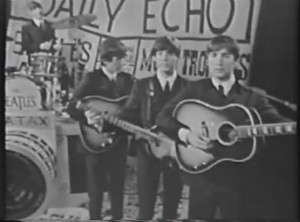 The Beatles mimed "This Boy" (and "I Want to Hold Your Hand") for Granada TV on November 25, 1963. It was aired on "Late Scene Extra" on Nov 27.
"This Boy" was released in November 1963 as the B-side of the single "I Want to Hold Your Hand". It was recorded on October 17th 1963. The song was composed while The Beatles were on tour in 1963.
In John Lennon words: "Just my attempt at writing one of those three-part harmony Smokey Robinson songs. Nothing in the lyrics; just a sound and harmony."
An orchestral version of This Boy, scored by George Martin, was included in the A Hard Day's Night film.
"I had scored an instrumental version of This Boy as part of the background music, and I used it for the sequence where Ringo is wandering by the river. We called it 'Ringo's Theme'" George Martin.