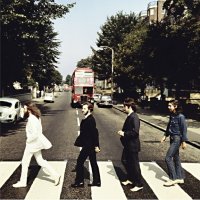 Some months ago (May 2012) a rare photo of the Beatles walking in the opposite direction from the original album cover on Abbey Road was put up for auction.
The photo on the sleeve of Abbey Road album was taken by photographer Iain McMillan on August 8, 1969. He had 10 minutes to do the shoot and he took six photographs of the Beatles walking backwards and forwards across the zebra crossing.
So actually there are three photos of the Beatles walking in the "opposite" direction.
Here is my collection, with the six photos plus some other shoots of the backstage of the set. These other photos were taken by Linda McCartney.
Notice that Paul McCartney was wearing sandals but he later took them off and in the official image he is barefoot.