A new auction next week with rare materials, and among the others a letter from John Lennon to Eric Clapton.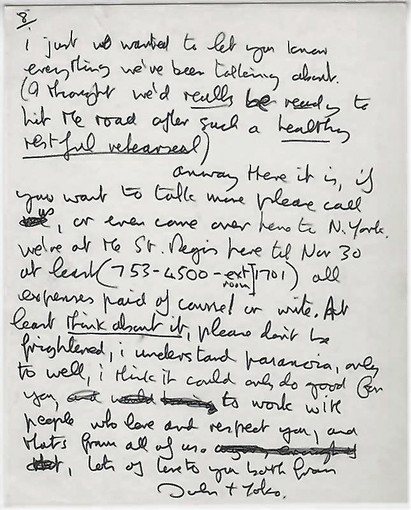 In this letter John Lennon held out the promise he could bring out more musical greatness in legendary guitarist Eric Clapton.
In a draft letter dated September 29, 1971, Lennon expressed his respect and admiration for British guitarist Clapton and suggested that they form a band together.
"Eric, I know I can bring out something great, in fact greater in you that had been so far evident in your music. I hope to bring out the same kind of greatness in all of us, which I know will happen if/when we get together," Lennon wrote in the letter.
Clapton played in the Plastic Ono Band, formed by Lennon and Yoko Ono in 1969 before the breakup of the Beatles in 1970. He also played on the George Harrison song "While My Guitar Gently Weeps", which was on the Beatles' White Album.