George Harrison's first six solo albums, released between 1968 and 1975 on The Beatles' Apple Records label, have been digitally remastered from the original analogue masters for CD and digital release on 22 September by UMG.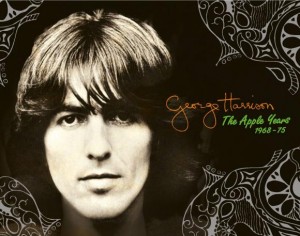 The box contains Wonderwall Music, Electronic Sound, All Things Must Pass, Living In The Material World, Dark Horse, and Extra Texture (Read All About It).
The Apple Years box also includes an exclusive perfect-bound book with an introduction by Dhani Harrison, new essays by award-winning radio producer and author Kevin Howlett, and rare and previously unpublished images.
George Harrison:  The Apple Years 1968-75
Wonderwall Music *
Electronic Sound
All Things Must Pass [2-CD]
Living In The Material World *
Dark Horse *
Extra Texture (Read All About It) *
* denotes newly added bonus track or tracks
From The Beatles press release