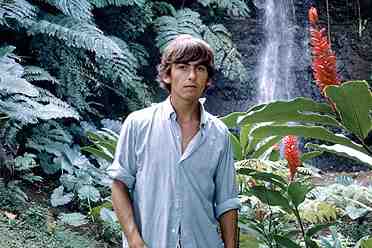 George Harrison was born in Liverpool, on 25 February 1943. He had one sister, Louise, and two brothers, Harry and Peter
In his own words, when he was 12 or 13 he heard Elvis Presley's "Heartbreak Hotel" playing from a nearby house, and the song piqued his interest in rock and roll. Then he formed a skiffle group called the Rebels with his brother Peter and a friend, Arthur Kelly.
On the bus to school, he met Paul McCartney, who later became a member the Quarrymen and introduced him to John Lennon.
In March 1958, Harrison auditioned for the Quarrymen playing "Guitar Boogie Shuffle". Lennon felt that Harrison, then 14, was too young to join the band.
During a second meeting, Harrison performed the lead guitar part for the instrumental "Raunchy" on the upper deck of a Liverpool bus and soon began socializing with the group, and filled in on guitar as needed. By the time he turned 15, they had accepted him as a member.