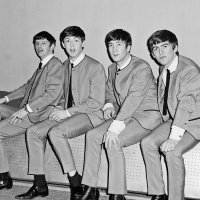 Lost photos of the Beatles in Croydon on 25th April 1963, before they were famous.
The photos were taken by 15-year-old boy photography student Andy Wright.
The concert took place at Fairfield Halls in Croydon, South London in on April 25th, 1963. With the Beatles were performing also John Leyton, Gerry and the Pacemakers, Billy J Kramer and The Dakotas and The Big Three.
It was about a month after the release of the first LP, Please Please Me and the Beatles weren't so famous as they will be only a few weeks later.
In the last photo Ringo Starr and John Lennon being interviewed backstage by Mrs Kirby.
Photo credit: Andy Wright/Getty Images