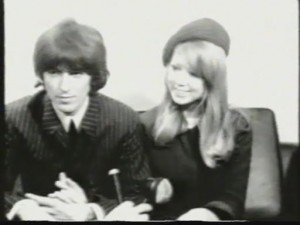 Pattie Boyd and George Harrison met in 1964 on the set of "A hard day's night", after she was casted as a schoolgirl fan for the film.
One of the first things Harrison said to her was "Will you marry me?" Boyd laughed, so Harrison said, "Well, if you won't marry me, will you have dinner with me tonight?" Several days later when Pattie was recalled for another day's work on the film, George asked her out again and she accepted.
George and Pattie were driving through London, in December 1965, when he proposed marriage to Boyd. They married on 21 January 1966, in a ceremony in Epsom, Surrey, with Paul McCartney (Best Man) and Epstein in attendance. John Lennon and Ringo Starr had gone on holiday abroad with their wives distracting journalists from finding out about the wedding.
Their wedding ended in 1973 when she left for Eric Clapton, long time friend of George and the couple. That didn't break the friendship of the two guitarists, being already the couple drifting apart for some time.