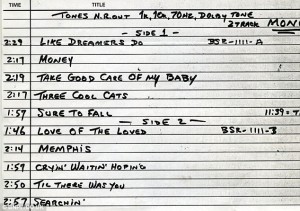 On New Year's Eve 1961 the Beatles went to London and the following day they were auditioned by Decca producer Tony Meehan.
The Beatles' audition tape that was infamously rejected by a record company boss – because he thought guitar groups were 'on the way out' – is now to be auctioned with a pre-sale estimate of £30,000.
The decision by a Decca Records' executive still stands as one of the worst judgement calls made in music history.
The ten tracks on the 12-inch audio tape include Money (That's What I Want), Like Dreamers Do, Take Good Care Of My Baby, Three Cool Cats, Love Of The Loved, Memphis and Crying Waiting Hoping.