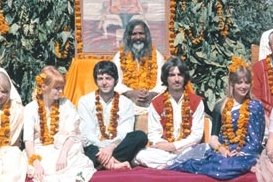 The Beatles visited Rishikesh in India in February 1968 to attend an advanced Transcendental Meditation training session at the ashram of Maharishi Mahesh Yogi.
It was a part of an effort to expand their consciousness already started with the use of drugs.
The interest in the Transcendental Meditation started when Pattie Boyd, at the time George Harrison's wife, became interested in the teachings of the Maharishi.
The Beatles attended a lecture presented by the Maharishi on 24 August 1967.
Two days later, on 26 August, the group travelled by train to the campus of a teaching college in Bangor, Wales.
The Beatles made plans to attend a training at the Maharishi's new ashram in India in late October, but the trip was postponed due to the the Magical Mystery Tour project.
In the group there were not only the Beatles: John and Cynthia Lennon, George Harrison with Pattie and Jenny Boyd, Paul McCartney with his girlfriend Jane Asher, Starr and his wife Maureen, entourage members Evans, Brown, Mardas and Neil Aspinall, Mia Farrow, her sister Prudence and brother John, Donovan, Gyp "Gypsy Dave" Mills, Mike Love, jazz flautist Paul Horn.