Jerry Hammack has just released volume 2 of The Beatles Recording Reference Manual – a book that reveals the secrets behind the recording of some of the band's most famous albums. It is the second of what will be a four-volume set.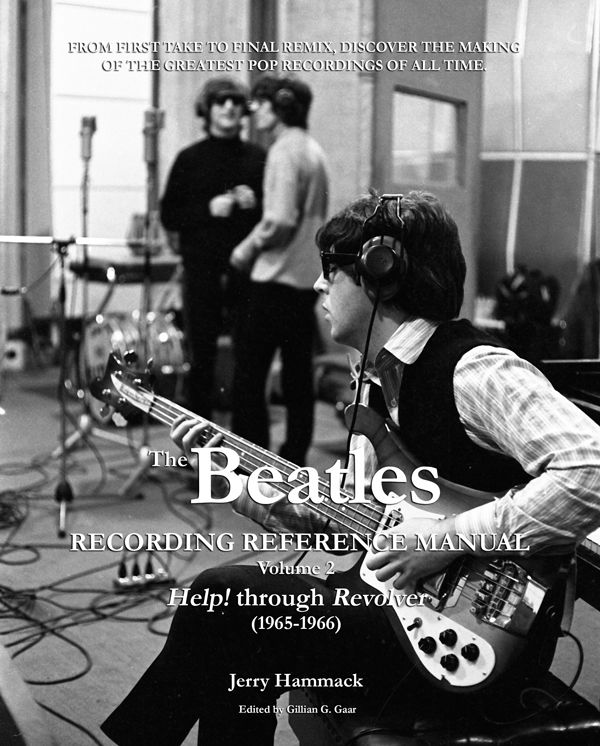 The second volume of the Association for Recorded Sound Collections (ARSC)-nominated, four-book series, The Beatles Recording Reference Manuals, "Help!" through "Revolver" 1965-1966 tracks the evolution of the band from the end of Beatlemania with "Help!", through the introspection of "Rubber Soul", and finally, to their initial explorations of all the studio could offer with "Revolver".
"This period in The Beatles' development is really fascinating," says Hammack. "It's a time where the demands of Beatlemania end and they are able to explore both from a songwriting and recording perspective. It represents the emergence of their unique voices as writers (think, 'In My Life') as well as their use of the studio to create sounds the world would never expect from a pop band (as in 'Tomorrow Never Knows')."
Book features:
Commercial releases during the period (albums, singles and extended play (EP) discs)
Song-by-song narratives of work during the period in order of first recording (Each narration includes an introduction to the song, information on the technical team responsible for production and a description of the construction of the song from the first take to the final remix, detailing the entire recording process.).
An easy to follow diagram of the recording process.
A year-by-year overview of the recording studios used by the band, including the available equipment configurations.
A year-by-year overview of the instruments and amplifiers used by the band.
A session-by-session breakdown of every technical component used in the creation of the songs (listing the session date, location, work completed, technical staff, musicians, instruments used, amplifiers used, recording equipment, microphones and studio effects used).
A listing of mono and stereo master remixes, their dates of creation and their release versions (for UK release).
Tables outlining the use during the period of electric and acoustic guitars, basses, drums, percussion, keyboards and other instruments, amplifiers, EMI Studios outboard equipment and microphones.
An explanation of technical equipment in relation to The Beatles recording sessions.
A glossary of terms.
A complete bibliography
About the author
Jerry Hammack is an American musician, producer, recording engineer and author living in Toronto, Ontario, Canada.