The Beatles Recording Reference Manuals is the first book of the four-book series by Jerry Hammack.
The first volume goes from "My Bonnie" through "Beatles For Sale" covering years 1961-1964.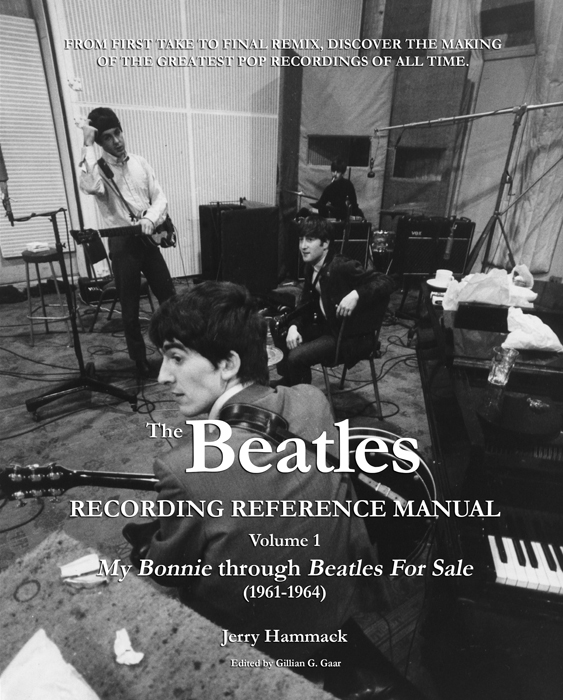 You'll find the step-by-step process in which each of the band's recordings were created. The books reconstruct each song's creation as well as detailing the technical profile of each and every classic Beatles recording session from 1961 to 1970.
Commercial releases, song-by-song narratives of work during, easy to follow diagrams of the recording process, year-by-year overview of the recording studios used by the band, including the available equipment configurations, year-by-year overview of the instruments and amplifiers used by the band. session-by-session breakdown of every technical component used in the creation of the songs.
The book includes exhaustive technical details of every Beatles recording session for the songs included.
The session details include:
– The session date and time
– The session location
– What work was performed on the song during the session
– Who played on the session
– What instruments were played
– What amplifiers were in use
– What recording gear was in use
– What effects were in use
– What microphones were in use
Through extensive, fully-documented research, these books fill an important gap left by all other Beatles books published to date and provide a unique view into the recordings of the most successful pop music act of all time.
About the author
Jerry Hammack is an American musician, producer, recording engineer and author living in Toronto, Ontario, Canada.
The Beatles Recording Reference Manuals, "My Bonnie" through "Beatles For Sale" 1961-1964
Publication Date: Jul 07 2017
Edited by Gillian G. Gaar
ISBN/EAN13: 1548023930 / 9781548023935
LCCN: 2017909370
Page Count: 424
Binding Type:
Price: $35.00
Buy from the CreateSpace store