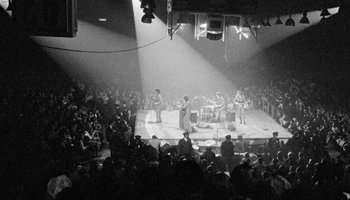 The Beatles' First Concert in the US, February 1964 Washington, DC
The Beatles' first visit to the US came at a time of great popularity in Britain. The band's UK commercial breakthrough, in late 1962, had been followed by a year of successful concerts and tours. The start of the Beatles' popularity in the US, in early 1964, was marked by intense demand for the single "I Want to Hold Your Hand" which sold one and a half million copies in under three weeks and the band's arrival the following month. The visit, advertised across the US on five million posters, was a defining moment in the Beatles' history, and the starting-point of the British Invasion.
On 9 February 1964, the Beatles made their first live US television appearance. 73 million viewers —about two fifths of the total American population— watched the group perform on The Ed Sullivan Show.
Two days after the television appearance, on 11 February 1964, the Beatles' first US concert took place, at Washington Coliseum, a sports arena in Washington, D.C. The concert was attended by eight thousand fans. The Beatles performed on a central stage in the arena, with the audience on all sides, and there were regular pauses to enable the band to turn their equipment around and perform facing in another direction.
"They played The Ed Sullivan Show, and then they took the train down to DC. That's where I lived at the time, that's where my career started. So when they showed up in DC, my sister was assisting their photographer, and she said, "You'd better come see these guys," so I did." Rowland Scherman
All photos by Rowland Scherman
Rowland Scherman began taking pictures in New York in 1958, when he was an apprentice at the LIFE darkroom. In 1961, a 24-year old freelancer, he served as the first photographer for the Peace Corps. Scherman travelled the world for the newly-formed organization, helping to give the Peace Corps its image. Scherman has done covers and photojournalism for LIFE, Time, Newsweek, Paris Match, Playboy, and National Geographic.